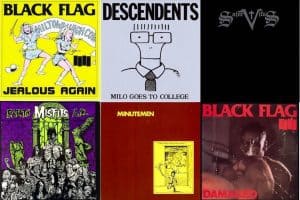 In this adventure we remember Glen 'Spot' Lockett who died recently and play a selection of the tracks he produced and engineered mainly on SST Records.            As ever Enjoy!
Luke Vibert & B.J. Cole – Intro
Black Flag – Jealous Again
Hüsker Dü – Chartered Trips
Minutemen – One Chapter In The Book
Misfits – Earth A.D.
Descendents – Myage
Meat Puppets – The Whistling Song
The Dicks – Rich Daddy
Big Boys – Sound On Sound
The Texas Instruments – Sun Tunnels
Crust – Sacred Heart
Saint Vitus – The Psychopath
Angry Samoans – Inside My Brain
Saccarine Trust – I Am Right
The Crucifucks – The Mountain Song
Meat Puppets – Maiden's Milk
Minutemen – If Reagan Played Disco
Hüsker Dü – New Day Rising
Black Flag – Rise Above